Fortune favours the brave and riders competing at last weekend's British Cycling's Shimano British Downhill Series needed all the courage they could muster to get down the hill in one piece. With riders turning away at the sight of the first technical section at the top of the woods on Saturday's practice, you'd be forgiven if you asked yourself why they weren't up for giving it a go. After speaking to a few of those who reluctantly threw in the towel, it was obvious that their passion for riding downhill was still strong but like any reasonable person would do, they calculated the risk against the reward. Going home with any injury can mean losing work, or even your job (you know, that thing that allows you to pay for those expensive downhill bikes and race entries), being in a lot of pain, and last but not least, putting you off riding your bike altogether. It's always a tough decision to turn back from the track, but Llangollen is one of the most technically challenging in the UK. Knowing your limits and saying 'no thanks' takes a lot of courage in itself, but those who did, missed out on some classic downhill action in the process.



The track itself managed to have a breather overnight, but in the morning, a light drizzle laid a coat of slick dirt over the top section of the track. The woods were just as tricky as the day before for morning practice and seeding run, although soon enough, riders got their rhythm on and it was a case of getting down as steadily as possible in order to get a successful qualification time. As the day progressed, the sun shone over the valley and the lower half of the track managed to dry out but the wooded top section was impenetrable bar a few specks of light. Despite this, the woods remained atmospheric and challenging for both riders and photographers.


- Seeding -

In Men's Elite seeding, Josh Bryceland was fastest down the track overall. His win at Leogang had given the pits an extra buzz and the many congratulations he received over the weekend had obviously encouraged him to dig that little bit deeper. Josh came down the hill three-tenths of a second faster than his closest compatriot, Joe Smith. Joe was followed by Gee Atherton, Danny Hart and Gareth Brewin, although the split between 1st and 5th seeding places was six seconds, which was telling of the track. In Expert Men, Craig Evans - although just under two seconds slower than the fastest rider in sector one, Billy Matthews - was faster than anyone in his category in the second sector, meaning his consistency allowed him to take first place in seeding, followed by Billy Matthews and Brandon Love. In Juvenile Men, Luke Birkett dominated the track and successfully went fastest in both sector one and two, followed by Kade Edwards and Adam Beaty, with Jake Gaskell managing fastest through the speed trap. In Youth Men, Matthew Walker seeded first after having gone fastest in sector one but third fastest in sector two. The tables were turned for second fastest Youth in seeding by Elliot Heap who was third fastest in sector one but then pulled it back to be fastest in sector two. With James Purvis being fastest through the speed trap, he also secured third place in seeding.


For the Junior Men, Matthew Barrett was fastest, with Taylor Vernon hot on his heals in second place with only one-tenth of a second between them. Andrew Dorritt was churning up the mud in the top half of the course all weekend and managed third place in seeding having had a very successful run through the woods. Dorritt was followed by Will Weston who managed to gain time in sector one after having a slow sector in the woods. In Senior Men, Callum Mackie secured fastest seeding spot in both sector one and two, with Dan Sibbick and Bradley Shields in hot pursuit. In Master Men, Dave List was not only fastest through the speed trap but fastest in sector two which meant he secured top spot, followed by Dan Haines and Andy Kipling.


Veteran Men saw half the field not start, but for those who did, Mark Weightman was fastest in sector one and through the speed trap, followed by Tim Ponting, Joe Ward and Ben Greenland. For the Women, Beverley Barnes was fastest in both sectors, followed by Rona Strivens, Hazel Wakefield, Heather Kay and Becci Skelton (who was actually fastest through the speed trap). Finally, in Elite Women, Rachel Atherton dominated both sectors, despite Manon Carpenter going fastest through the speed trap. Jess Greaves followed Atherton and Carpenter, and was the only other Elite Women category racer that day.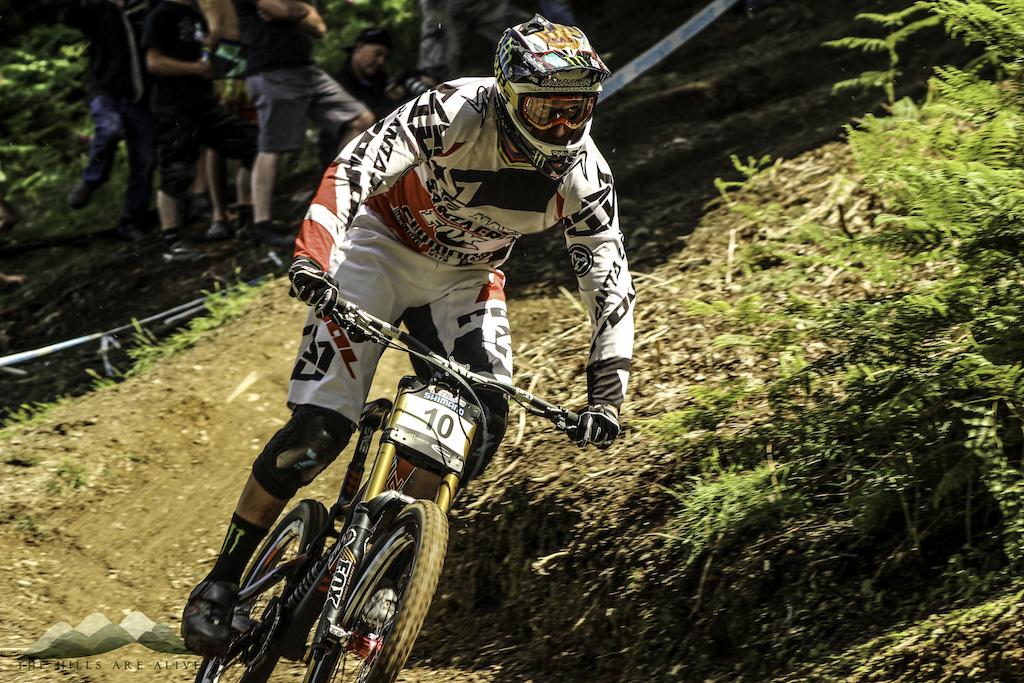 - Junior Men Results -

Despite having a mid-ranking seeding result, Reece Wilson came down the hill with super-fast sector times. Wilson had come down early but took the hot seat straight away, but was he able to keep it? The answer was a resounding yes! Wilson managed to stay in the hot seat whilst the likes of Laurie Greenland, Taylor Vernon and Drew Carters came down the hill. Vernon had a terrible time on the early part of the track and managed to pull some back lower down, but the damage was done and he crossed the line in 11th. After Vernon, Matthew Barrett, who secured first spot in seeding, was the last to come down but didn't quite put it together, crossing the line 3.5 seconds slower than Wilson. Nial Oxley secured the fastest time through the speed trap in the Junior category.


- Elite Women Results -

Despite a strong field in the other women's category, only three riders raced on Sunday. Jessica Greaves was fighting it out against two of the fastest female downhill riders on the planet. Greaves put up a good fight, having a good lower section of the track. Unfortunately for Carpenter, Atherton lit up the track, being seven seconds faster in sector one and three seconds faster in sector two. Carpenter did manage to secure fastest time through the speed trap, but only by a whisker.


- Elite Men Results -

All eyes moved back up the hill in anticipation of the Elite Men's runs. Would Danny Hart make the most of the tricky conditions up top? Would a sneaky slick root be the downfall of the fastest man in seeding, Josh Bryceland? Would anyone be able to be fast in both sectors? Seeded fourth, Danny Hart came down the track whilst Mike Jones occupied the hot seat at the bottom. One could only wonder what was going on in the woods but on the exposed hillside, spectators were greeted with a dark blue flash of Hart bashing through the turns. Hart entered the finish line at speed and managed to topple Jones off the top spot with a time of 2:11.542. It was then Gee Atherton's turn and he managed to secure a super fast time through the woods but a slower time in sector two. Gee moved Hart off the hot seat and sat and waited to see if anyone could better his time of 2:08:135. The penultimate rider down the track was Joe Smith who managed to be two seconds up from his seeding run in sector one but that was three seconds slower than Atherton's race time. Without being able to pull back the deficit, Smith crossed the line in second place. And then came Josh Bryceland. Ratboy was unable to get down the first sector in the woods cleanly and despite having the legs towards the end, he came through the finish in fourth place. Notably, Scott Mears managed to secure fastest through the speed trap of anyone all day, securing an impressive 25.4mph!


- Full Results -

JUVENILE - Sponsored by DMR
1 // Kade EDWARDS // Atherton Academy Team // 2:42.618
2 // Adam BEATY // Keswick Bikes // 2:53.321 (+10.703)
3 // Luke BIRKETT // We Love Mountains Racing Team // 3:06.124 (+23.506)
4 // Jamie EDMONDSON // Sick Skills Develpment Team/Wolfpax Riders // 3:06.867 (+24.249)
5 // Joseph DERRICK // Muddy Bum Bikes // 17.292 (+34.674)

YOUTH - Sponsored by NS Bikes
1 // Elliott HEAP // 2:31.448
2 // Matthew WALKER // Madison Saracen Development Team // 2:38.143 (+6.695)
3 // Joe PARFITT // WideopenMag // 2:39.915 (+8.467)
4 // James PURVIS // Team-chr // 2:41.412 (+9.964)
5 // Conor BATE // PO Ferries // 2:43.059 (+11.611)

VETERAN - Sponsored by Dainese
1 // Tim PONTING// Mojo // 2:40.041
2 // Mark WEIGHTMAN // 2:41.385 (+1.344)
3 // Joe WARD // Potato Bred // 2:57.867 (+17.826)
4 // Ben GREENLAND // 3:03.409 (+23.368 )
5 // John COBB // 3:07.080 (+27.039)

MASTER - Sponsored by Marzocchi
1 // Dave LIST // A Cafe // 2:35.005
2 // Dan HAINES// Eddie Chaffe Racing // 2:41.258 (+6.253)
3 // Andy KIPLING // We Love Mountains DH Team // 2:41.446 (+6.441)
4 // Craig TAYLOR // Devinci/Haven // 2:41.611 (+6.606)
5 // Stuart HUGHES // Commencal/Decade // 2:42.460 (+7.455)

WOMEN - Sponsored by Flare Clothing
1 // Beverley BARNES // Muddy Bum Bikes // 3:32.959
2 // Rebecca KENNEDY // 4:20.335 (+47.376)
3 // Becci SKELTON // TRG Racing // 4:41.180 (+1:08.221)
4 // Heather KAY // Carrick Riders // 4:46.157 (+1:13.198 )
5 // Hazel WAKEFIELD // Howies // 4:56.067 (+1:23.108 )

SENIOR - Sponsored by Spank
1 // Calum MACKIE // EUCC // 2:32.043
2 // Laurie ARTHUR // Mulebar // 2:36.845 (+4.802)
3 // Ben WILLIAMSON // Perth City Cycles // 2:41.302 (+9.259)
4 // Jonathan COULIER // Propain/Sixpack-Racing // 2:43.354 (+11.311)
5 // Euan THOMSON // 2:44.959 (+12.916)

EXPERT - Sponsored by X-Fusion
1 // Craig EVANS // Static Clothing/Team On One Codine // 2:22.269
2 // Matt RUSHTON // Hope Factory Racing // 2:29.885 (+7.616)
3 // Sean DAVIES // Fast/Hotlines/Kin-Gud/NS Bikes // 2:30.210 (+7.941)
4 // Andrew KELLY // All Terrain Cycles // 2:31.453 (+9.184)
5 // Leo HOUSMANM // de Bikes/Shaman UK // 2:31.974 (+9.705)

JUNIOR - Sponsored by Outdoor Tech
1 // Reece WILSON // Alpine Bikes/UNIOR TOOLS // 2:21.845
2 // Matthew BARRETT // J-Tech / Pearce Cycles // 2:25.377 (+3.532)
3 // Jacob DICKSON // Orange Dirt World Team // 2:26.135 (+4.290)
4 // Andrew DORRITT // MS Mondraker // 2:26.191 (+4.346)
5 // Dan FARLEY // Kona/Wheelbase // 2:29.660 (+7.815)

ELITE WOMEN - Sponsored by Schwalbe
1 // Rachel ATHERTON // GT FACTORY RACING // 2:30.670
2 // Manon CARPENTER // Madison Saracen Factory Team // 2:40.064 (+9.394)
3 // Jessica GREAVES // Team Skene // 5:12.186 (+2:41.516)



ELITE MEN - Sponsored by Schwalbe
1 // Gee ATHERTON // GT FACTORY RACING // 2:08.135
2 // Joe SMITH // Chain Reaction Cycles/Nukeproof // 2:10.847 (+2.712)
3 // Danny HART // Giant Factory Off Road Team // 2:11.542 (+3.407)
4 // Josh BRYCELAND // Santa Cruz Syndicate // 2:13.636 (+5.501)
5 // Sam DALE // Madison Saracen Factory Team // 2:14.239 (+6.104)



Bonus Prizes:
Ethic Watches Fastest Time of the Day: Gee ATHERTON, GT Factory Racing
Works Components Fastest Through the Speed Trap: Scott Mears, Fox Head
Rose Bikes Biggest Winning Margin: Kade Edwards, Atherton Academy

Note, the Rose Bikes Biggest Winning Margin prize applies to riders who are in a category of 10 or more riders.

Full race results are available via Roots and Rain.
Photo credits: Grip Media and The Hills Are Alive.